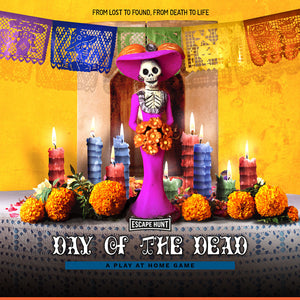 Players: 2-6 Duration: 1 hour Age: 8+
Tonight, it is the Day of the Dead and amongst the festivities, music and colour, lies a legendary challenge: the chance to be reborn.
About The Game

Have you got what it takes to lead a skeleton crew of expert thieves into the most heavily guarded building in the whole underworld? For one night only, the walls between the real world and the afterlife have come down and the greatest prize of them all sits inside a secure vault somewhere inside the palace, waiting to be taken by someone bold enough to try.
What you need

Printer
Device (phone/tablet/laptop etc)
Internet connection
Pen, Paper & Scissors
How to play

Download and print your afterlife puzzle pack - don't forget to save your download
Read the challenge set to you by Lady Death
Need some clues? You'll gain access to a secret site where you can get help from the other side along the way